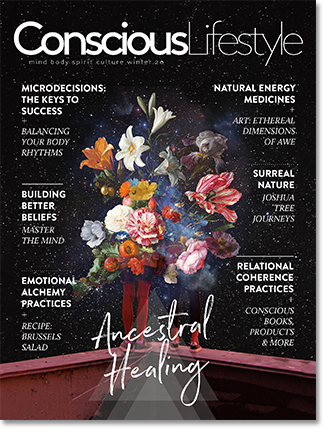 Digital edition:
Apply now
Printed edition of the collector's edition:
Soon!
BALANCE THE RHYTHMS OF THE BODY
By Cate Stillman
Aligning with your body rhythms is a very powerful and often unforgettable path to health.
GRASSES AND SUPPLEMENTS FOR EPIC ENERGY
Jonny Bowden, Dr. CNS
Learn how to increase your energy level in a sustainable way with natural supplements that won't deplete your body or mind.
RECIPE: BRUSSELS CROKA SALAD
By Dr. Steven R. Gundry
The tasty and very nutritious salad all takes just five minutes to cook and is surprisingly delicious.
THE POWER OF MICRODECTS
By Justin Faerman
Learn how to optimize yourself for autopilot success and make decisions to improve flow.
BUILDING BETTER BELIEFS
By Peta Morton
Building better beliefs is a key life skill that will wonderfully increase happiness, health, and inner peace.
HEALING TRAUMA IN AGING
By Pritam Atma
Learn how to clear your heart and mind from emotional patterns that may or may not be yours.
CLEANING YOUR HOME FOR HEALTH
By Gay Brown
Because we spend a large part of our lives in our home, if it's not healthy and clean, neither are we.
MAKING RELATIONSHIPS WELL
By Dr. Melanie Joy.
Learn the art of conscious conflict resolution to change your relationships to consistency and high flows.
JOURNEY: PHOTOGRAPHIC JOURNEY THROUGH THE JOSHUA TREE
By Meghan McDonald and Justin Faerman
Take a visual journey through one of the most surreal and beautiful landscapes on planet earth.
ART: ETHERAL FEELINGS
The Art of Nathalie Huijbers
Escape from everyday life to the magical realms of multi-dimensional fantasy and fear inspired by nature.
CONSCIOUS EVENTS, BOOK REVIEWS, PUBLISHED PRODUCTS AND MORE
Vote with your wallet for a better (and more elegant) future by helping these conscious and sustainable brands.