Lifestyle
Genius Rice Cooking Hack DECISION Changed My Vegetable Leaves Pan Curry Game – Wired PR Lifestyle Story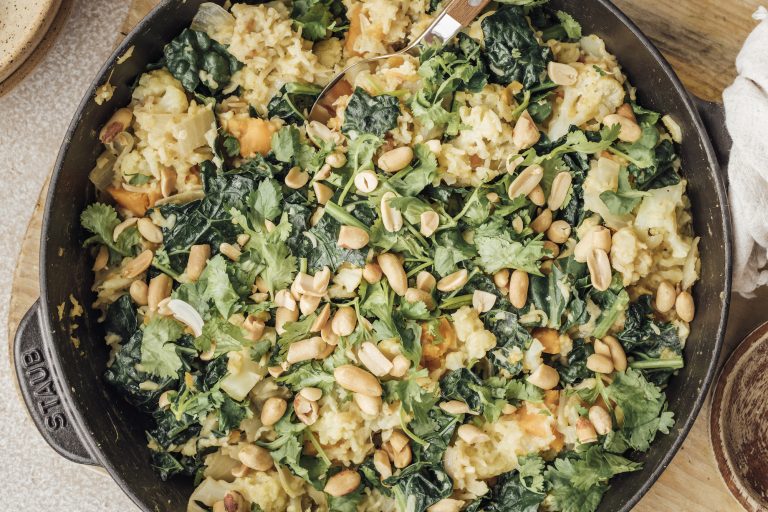 I like it a lot about this vegetarian curry pan, but its true genius lies in the awesome cooking hack I didn't think of cooking rice with pan-fried vegetables with pan-fried vegetables. . As here, the rice does not boil in a separate bowl; this is actually a vegetarian pan made. in a frying pan (or to serve one or two people in a pan, as we did when we filmed the recipe).
In addition to its ease of cooking (and cleaning), this curry is amazing for its interesting flavor and texture that blends in with a few simple ingredients. Coconut milk comes with a hearty cream without the addition of milk, and peanut butter, garlic and green curry dough combine in a delicious sauce that brings a simple dinner of vegetables and rice to new territory.
I made this vegetarian leafy curry recipe a few times as we improved our next ratios Plant-based RE: SET menu, and I can honestly say that it has now become a homemade product. We really can't get enough of it, and the best thing about it is that you can adjust the ingredients according to any seasonal products you have in the fridge. Come on in, take a look and enjoy yourself! Read all you need to know about this vegetarian pan and take the recipe at the bottom of the recipe page. And don't forget to register our plant-based RE: SET for free! The full 5-day plant-based menu will be included in the inbox on January 21st.
I love the simplicity found in this vegetarian curry pan. All that is on the short list of ingredients is the driving force: the coconut milk brings in a little cream, which plays so well with the spice of green curry paste. A pinch of peanut butter combines everything with kale, cauliflower and sweet potatoes to give you an almost delicious nut. This is a convenient food that doesn't weigh you down, and I like to shower the whole pan with fresh herbs, chopped peanuts, and large splashes of lime when it comes out of the oven.
Can you make rice in a frying pan?
I had the same question, and since this was my decision to have a one-pan dinner, I experimented with getting it right. It turns out, yes you can make rice in a frying pan! Here's what you need to know:
Make sure the rice is completely immersed in the liquid. If the liquid evaporates, add a little water to make sure it is covered.
Make sure the water is boiling before adding it, and use it to create a good seal that catches hot paper and cooks the rice along with the other ingredients.
What ingredients can you replace in this recipe?
In general, I like to have a strong green, a root vegetable and a cruciferous vegetable. Within that formula, the sky is the limit! Here are some of my most successful exchanges:
Green curry paste: replace any other curry paste; note that different curry pastes have different heat levels. In general, green is usually quite hot, which is why I only used a couple of tablespoons here.
Street: Use any strong green, from spinach to neck and chard.
Sweet Potato: Swap a pumpkin, a delicate pumpkin, or a plain old baked potato, peeled and diced.
Cauliflower: Think broccoli, Brussels sprouts in half or chopped cabbage.
How to halve this recipe for 2 people? Make it "Vegetarian Frying pan Curry ".
For our shooting, we cut the list of ingredients in half and made it into a frying pan, which was the perfect size for two dinner portions. I like to use mine Staub cast iron skillet for this recipe, it goes very well from the oven to the table and keeps the whole dish very warm. All you have to do is split all the ingredients in half, but make sure there is still enough liquid to completely cover the rice. If not, add a little water or extra coconut milk.
This vegetarian street frying pan freezes beautifully! Here's how to put one together for use.
This curry makes a perfect working lunch, so I usually put the leftovers in the fridge in a closed container heat in the refrigerator and the next day gently over high heat or in the microwave. If I am anyway really In my game, I will double this recipe to make a mega batch, then transfer it to a couple of bowls with chilled curry lids, label it and store it in the freezer for a month. When ready to eat, thaw overnight in the refrigerator, then reheat in a saucepan. Prepare once, twice for dinner. And remember, when it's leftover, the last sprinkling of fresh herbs and chopped peanuts is a long way off.
Go get the recipe that is part of us Plant-based RE: SETThe new 5-day meal plan will arrive in your inbox on January 21st! Packed with delicious recipes for breakfast, lunch and dinner, these are a week-long meal that will make you lighter, brighter and more dynamic. Sign up here!
Source link